Ezra Chairs
Ezra
The Ezra is a design inspired home or office chair offers the benefits of both style and comfort at a very competitive price point.
The Ezra is available in Black, Brown or White executive Leather with polished chrome five star, wheelbase, this furniture is perfect suited for either a boardroom, an office, or a home application.
The executive features a single lever lock tilt mechanism, this offers the user an upright seated position for writing and typing activities and a Tilt and lock mechanism reclining action for a more relaxing activity.
Tension can be adjusted accordingly for size and weight of the user.
Features :
Stunning design for home or office use
Stylish stitch detailing
Soft touch leather
Chrome detail armrest frame matches base
Tension adjustment to tilt
Padded armrests
Single lever lock tilt mechanism
Gas Lift tested to 150 KG
Usage: Executive 8hr
The Ezra Range Chair
The image selected will still be selected when you return to this tab.
Ezra Black Leather EX000188
Ezra Black Side Elevation
Ezra Offset Rear Elevation
Ezra in White Leather EX000189
Ezra White Side Elevation
Ezra White Front Elevation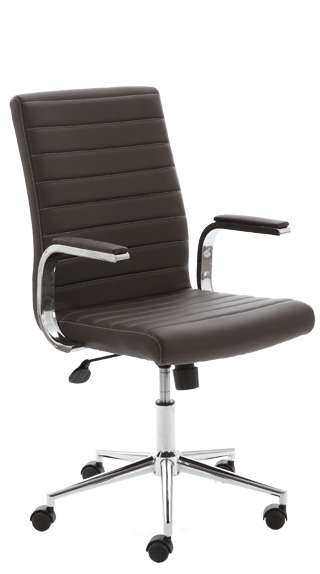 Ezra Brown Leather EX000190
Ezra Brown Front Elevation
Accesskeys 2 3 4 5 6 7 8 9 0 X
Ezra Specifications:
Ezra Seat Width:

48cm

Ezra Seat Depth:

46cm

Ezra Seat Height:

49-59cm

Ezra Overall Width:

59cm

Ezra Overall Depth:

57cm

Ezra Overall Height:

990mm - 1080

Ezra Arm Height:

66.5m

Ezra Back Height:

53cm

Ezra Back Width:

46cm

Ezra Weight:

16.5kg
Gas Height Adjuster
Tilt Tension Adjustment
Armrests
Lock and Tilt Motion
---
Icon description and meanings can be found on the
Glossary page
Buying Ezra Chairs
Diamond Installations supply to both individuals and Business.
This chairs has built in technology to help with posture.
Ezra Leather chairs
R.R.P. Ezra Black EX000188 £267.00
R.R.P. Ezra White EX000189 £267.00
R.R.P. Ezra Brown EX000190 £267.00
When calling quote reference: Edition15 for a minimum 15% discount.
To get today's best price is only a phone call away. Tel: 07916275429 Or email Diamond Installations stevie@diamondinstallations.co.uk and request visit form. Diamond Installations will do the rest.
Custom Search App for Diamond Installations Website, helps you find what you are looking for.